*
*
*
*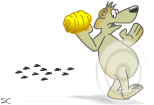 Breath & Breath Book of the Month Club
Move over Oprah...Who needs the Sunday Times? By popular demand the Breath & Breath's Book Club is BACK!
&nbsp Our pick of the month for September, 2004 Richard Neer's new book "fm"-The Rise and Fall of Rock Radio. Keep up with Breath and Breath; you should be finishing up Chapter 3 by now!

This page is proudly sponsored by: